The simple .gif image has come a long way over the years of internet development. In particular , it has grown into something more interesting on social media. Facebook introduced the linked gif feature in 2015 and already you can guarantee that your newsfeed will contain a couple .gif animations on a quick scroll through. Fortunately .gif creation is a fairly easy process with plenty of (free) options to choose from.
TRY OUT GIPHY 
GIPHY is a large database of GIF animations where you can freely select from or upload your own. It also features the ability to create a gif from a video link i.e  inserting a Youtube video link and then using a nifty selection tool to cut out the exact part you want to use


This Spongebob will increase my audience reach by 250%

Then there is the quite ridiculous GIF editor which basically allows for the addition of 'stickers' – a GIF without a background that can be layered on top of existing GIFs. GIFs in GIFs in GIFs etc etc.

TURNING A SELECTION OF STILLS INTO A GIF

http://gifmaker.me/

using gifmaker.me features the ability to upload a collection of images directly to the site to turn them into a gif. The Control Panel contains a size editor and framerate editor.
Similar sites to try out are:

https://imgflip.com/images-to-gif
http://ezgif.com/maker

A LITTLE BIT MORE TECHNICAL

GIFs don't have loading bars so try to keep the file-size as small as possible to avoid the nasty stop-start way GIFS load themselves. 2 megabytes at most is in my opinion a healthy size. If you want to decrease the file size of the GIF consider decreasing the frame rate first rather than the image quality or dimensions of the file. GIFs take to flat colour well rather than photographic imagery and displays them more clearly.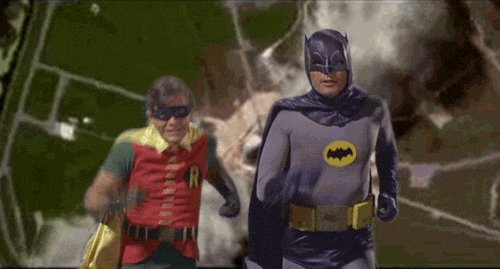 We can see some image compression in the Batman & Robin GIF while Jake retains a lot of his crisp 2d image quality.
Have fun!